Flexible Space Carrying future
XO-MRLII Non machine room passenger elevator without special machine room, and reducing the host between machine and control cabinet volume. Compared to the traditional machine room passenger, XO-MRLII Non machine room 's compact structure design, makes its construction advantages more obvious in saving space, at the same time, greatly reducing the cost of construction, is an ideal choice for investors. And developers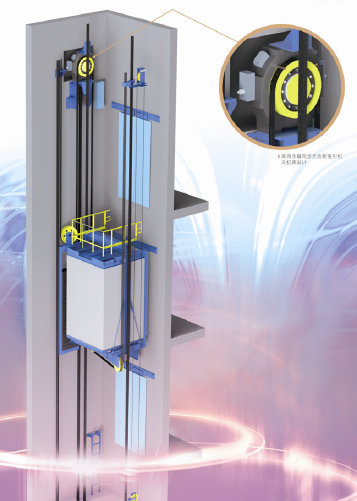 Creative design Space saving
Without special machine room, save construction cost for the user , improve the utilization rate of the space. At the same time the elevator is fully integrated into the architectural layout, building structure more perfect, effectively reducing the top space, the overall layout is compact and reasonable.
Variable frequency conversion control
Adopting microcomputer modular computer control system design, with a new general control panel, capable of corresponding program flexibly. With a variety of advanced inverter, make the data processing more quickly, with excellent performance to meet your diverse needs.
Configuration of superior quality
Permanent magnetic frequency door machine has the advantages of compact structure, convenient installation, the energy conservation effect greatly satisfy the modern people to the product the requirement of saving energy, using the new permanent magnet synchronous motor, vector control, synchronous belt reflects the product stability and the running comfort, at the same time with synchronous and asynchronous door knife for choice, reversal protection function of overload.